Haven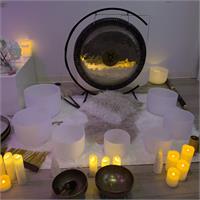 About Shanila and Gina,
We're two sound healing alchemists based in Los Angeles, giving sound baths, sound healing, and vibrational sound therapy to revitalize the mind, body, and spirit. We set the stage for deep mediation, relaxation, and rejuvenation. Our instruments are ancient modalities – Crystal singing bowls, gongs, Tibetan bowls, sounds of natures, and planetary attunements. We encourage those who attend to be comfortable with blankets and pillows, and create a cozy environment to relax and let go. Come join us as we take you through a truly immersive journey.
Haven is currently not instructing any classes.