Nadjiba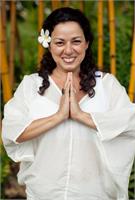 Nadjiba Medjaoui has been practicing Yoga since 2004. In 2010, she moved to Los Angeles to study Yoga and healing modalities. Soon she became a YogaWorks 200 hours certified instructor. She is passionate about the therapeutic and healing effect of Yoga which, brought her to study Yoga Tune Up® with Jill Miller and Restorative Yoga with Jillian Pransky.
She is an integrated Yoga Tune Up® teacher and a Holistic Health Coach certified by the Institute for Integrative Nutrition and a Tensegrity® instructor. She holds a bachelor degree in Architecture and is passionate about building with natural materials. She speaks English, French and Arabic.
Nadjiba instructs the following:
Yoga Tune Up® is a conscious therapy practice that combines Yoga, self-massage and corrective exercises to relieve pain, improve posture and enhance performance. The unique combination of these techniques helps identify the body blind spots, release muscle tension, and increase joint mobility. Yoga Tune Up® includes Pranayama and restorative practice, which balance the nervous system. The regular practice of Yoga Tune Up® promotes body and mind awareness and establishes healthy movement patterns. This class is recommended for people coming from any background, newcomers and seasoned movement practitioners are equally welcome.