Jasmina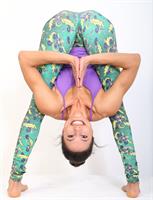 I believe in heat and just like B.K.I says, there is no magic pill to master anything. It has to be earned with sweat so get ready for a heated, fun Hatha flow with challenging sequence, lots of prop use, and restoratives at the end
Yoga has been the balance and center of strength providing the daily shift of my rajastic state of mind into a more sattvic place, connecting the body and mind…. the goal of yoga.
I love the endless joy of learning and listening to my body and watching daily how it changes, moving away from thought and the chitta vrittis (fluctuations of the mind), seeing the future created out of the present, living moment to moment… breath to breath.
Jasmina instructs the following:
Ashtanga Yoga is a system of yoga transmitted to the modern world by Sri K. Pattabhi Jois (1915-2009). This method of yoga involves synchronizing the breath with a progressive series of postures—a process producing intense internal heat and a profuse, purifying sweat that detoxifies muscles and organs.

Not recommended for anyone with injuries or pregnant.