Shane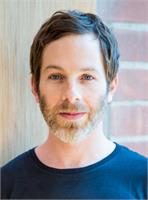 Like many, I started practicing Iyengar yoga in an attempt to heal injuries and relieve pain that had become chronic. I'm still amazed at how well it worked and works. I'm also thankful for the mental and emotional "quiet" that the practice offers.
Since I was originally trained in the visual arts, mostly making sculpture and conceptual projects, I love the shapes of the poses and how one pose is another inverted or on its side… I'm endlessly amazed at how this formalism has the capacity to heal and inspire. I see yoga as the highest art form.
I am a certified Introductory 2 Iyengar Yoga teacher.
Shane instructs the following:
This varied class is suitable for all levels of practitioners, from beginning to experienced students. Building on the foundational teachings of BKS Iyengar, this class will offer a continued and deepened exploration of asanas and pranayamas, with an aim towards developing and supporting a self-directed yoga practice. Come join us in building strength, confidence and stamina while nurturing and refreshing body and mind.




For students who have a solid understanding of the fundamental poses taught in Level 1 along with a base of strength and flexibility from regular attendance. In this class, students will deepen their understanding of the mind-body connection in an expanded study of foundational poses including standing twists, backbends, and headstand.