Iyengar 1
This class is taught by: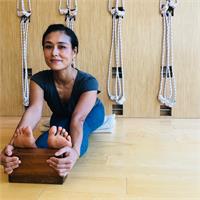 Originally from Japan, Chigusa has been practicing yoga since 2000. She has been fortunate to study Iyengar yoga under the mentorship of Marla Apt, and the guidance of Lisa Walford and Dora Hasenbein for the last 5 years.
Having worked as a post production editor, yoga helped Chigusa to cope with a sedentary and high-stress work environment and helped her to develop physical strength and emotional balance.
She firmly believes that regular yoga practice can elevate our day to day life by releasing unnecessary tension and bringing more balance to body and mind.
Chigusa is dedicated to sharing the benefit of yoga and helping students to improve their practice.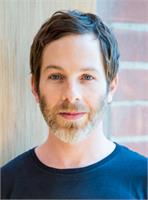 Like many, I started practicing Iyengar yoga in an attempt to heal injuries and relieve pain that had become chronic. I'm still amazed at how well it worked and works. I'm also thankful for the mental and emotional "quiet" that the practice offers.
Since I was originally trained in the visual arts, mostly making sculpture and conceptual projects, I love the shapes of the poses and how one pose is another inverted or on its side… I'm endlessly amazed at how this formalism has the capacity to heal and inspire. I see yoga as the highest art form.
I am a certified Introductory 2 Iyengar Yoga teacher.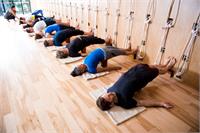 This varied class is suitable for all levels of practitioners, from beginning to experienced students. Building on the foundational teachings of BKS Iyengar, this class will offer a continued and deepened exploration of asanas and pranayamas, with an aim towards developing and supporting a self-directed yoga practice. Come join us in building strength, confidence and stamina while nurturing and refreshing body and mind.
Upcoming classes: