Iyengar Basics & Stretch
This class is taught by: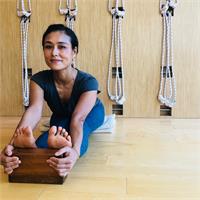 Originally from Japan, Chigusa has been practicing yoga since 2000. She has been fortunate to study Iyengar yoga under the mentorship of Marla Apt, and the guidance of Lisa Walford and Dora Hasenbein for the last 5 years.
Having worked as a post production editor, yoga helped Chigusa to cope with a sedentary and high-stress work environment and helped her to develop physical strength and emotional balance.
She firmly believes that regular yoga practice can elevate our day to day life by releasing unnecessary tension and bringing more balance to body and mind.
Chigusa is dedicated to sharing the benefit of yoga and helping students to improve their practice.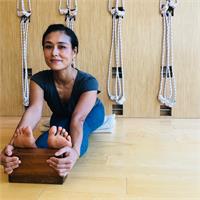 In this class we will explore yoga fundamental poses and basics while incorporating stretch with props to help get us in a safer and deeper alignment to feel the benefits stretching thru yoga poses. Yoga is famous for its mental and physical fitness such benefits are; Strength, Flexibility, Control, Stress, and release of tightness and back pain, neck and shoulders. Have fun with the usage of props while stretching.
Chigusa Teaching Schedule:
Tues/Thurs 9:15-10:30am
Thursday- 7:15-8:30pm
Friday 10:30-12pm
Upcoming classes: